LendingWise makes it easy to work with your 3rd party services like CRAs, business credit, Flood Cert, and more.
LendingWise is set up with 20+ CRAs(Credit Reporting Agency) to pull hard credit (See below list). LendingWise also provide Soft Credit services, see this link.
Credit Reporting Agencies (Supported CRA List)

Currently Only the "MeridianLink, Inc." CRAs are supported
Before ordering a service (Consumer Credit Report, AVM, MERS, Business Credit Report, Flood, and/or Criminal Record Report), please verify you have enabled this with your provider. Your CRA provider will need to set up your account with login/password access. We are not a CRA provider, we only provide the integration between the CRA and LendingWise.
1) LendingWise will need to add the CRA to your account (only 1 CRA allowed), please submit a ticket via this link.
2) You will enter the company credentials from your CRA vendor to the section in 3rd Party Services. (Settings-> Platform Settings-> Company Info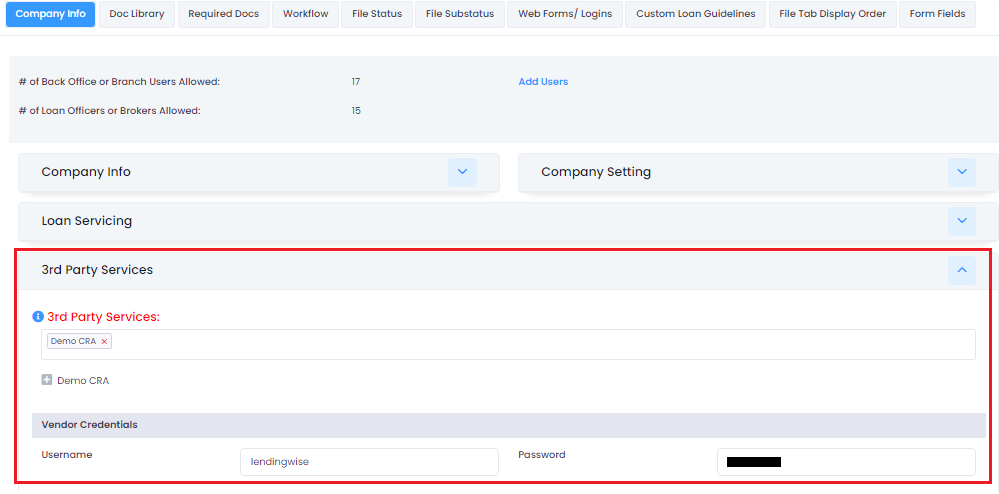 a) If credentials need to be added to your loan officers, brokers, and branch. You can do so via their personal settings.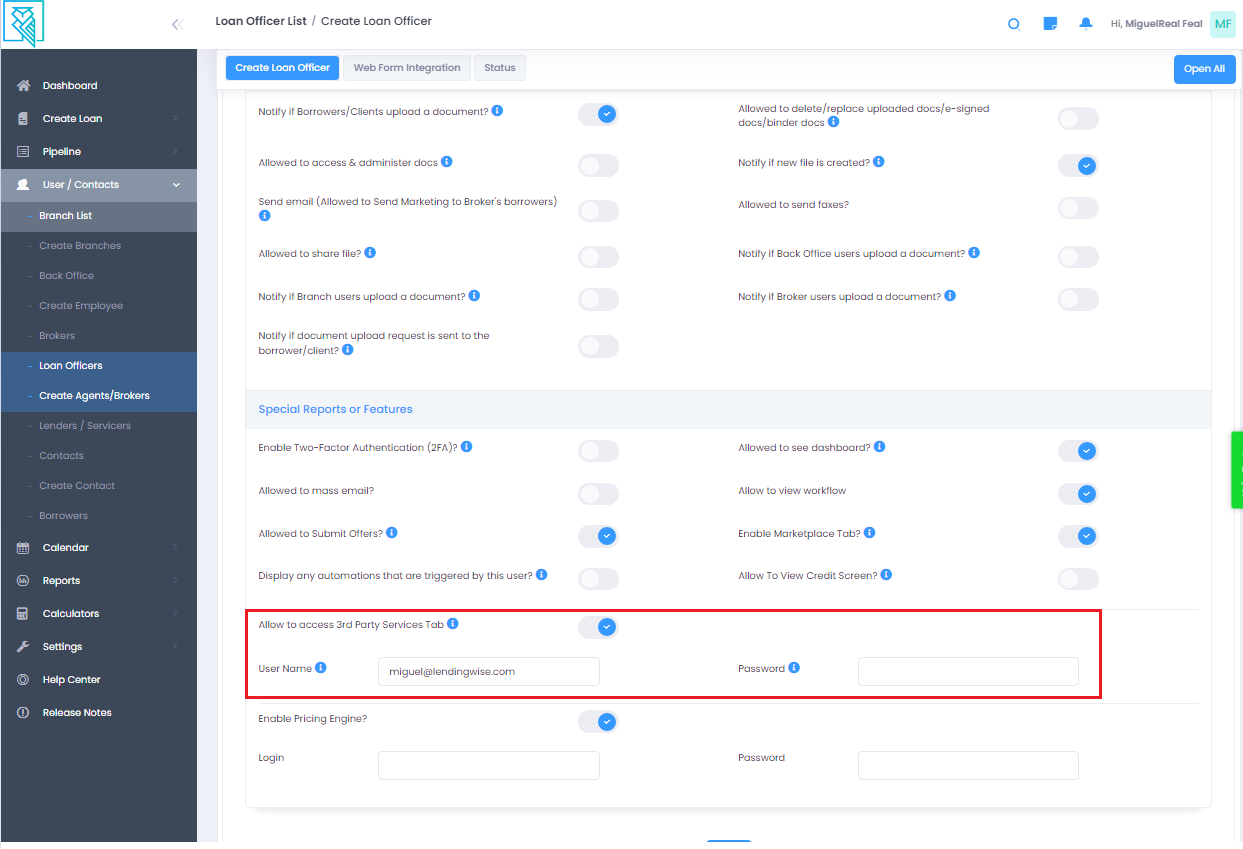 Current vendors approved via the Meridian Link:
Advantage Credit Bureau (powered by MeridianLink)
Advantage Credit, Inc. of Colorado
Advantage Plus Credit Reporting, Inc.
American Reporting Company, LLC
Birchwood Credit Services, Inc.
Certified Credit Reporting, Inc.
CIC Mortgage Credit, Inc.
CIS Credit by Xactus
Cisco Credit
Credit Information Systems ML
Credit Link, LLC
Credit Plus by Xactus
Credit Technologies, Inc.
Credit Technology, Inc.
DataFacts Lending by Xactus
Information Searching Company
KCB Credit LLC
Lenders One
MCB
MeridianLink, Inc.
Premium Credit Bureau
Premium Credit Bureau Data
SARMA
Service First Information Solutions
SettlementOne Data, LLC
United One
Universal Credit by Xactus
How-to
Order Credit Report
Business Credit
You can order other services provided by the CRA and in the drop down for "Services"
---
**Please note:**

Xactus acquired CIS Credit, Credit Plus, DataFacts Lending, and Universal Credit. These CRA's we are integrated with, LendingWise is not directly integrated with Xactus Credit Services.

Ex:
If you have logins from CIS Credit, these will work. If you have logins from Xactus directly, these will not work.
-----
*Please note there's a hierarchy we have setup based on the credentials level. If a branch, broker or loan officer has their set of credentials and should not be using the company's credentials. They should be added to their personal user settings. In the screenshot below